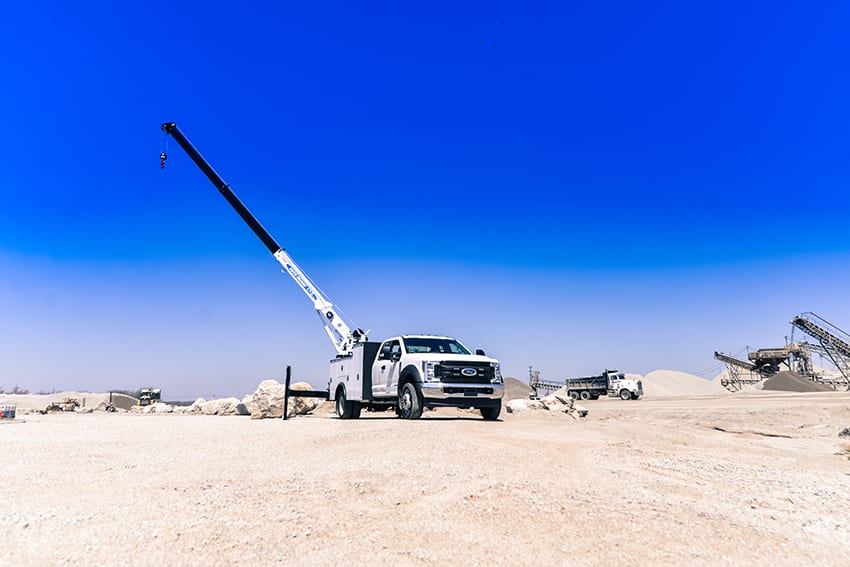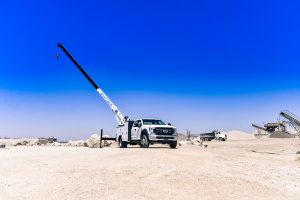 The Titan 38 body has been re-rated to 52,000 ft-lbs off the back and 43,000 ft-lbs off the sides with full stability and 100% capacity around the truck! The competition requires you to step up to a class 6 or add front stabilizers to get this kind of performance that still doesn't match Auto Crane.

Better yet is the all-steel Titan 38 body with crane, outrigger and compressor package weighs 42 lbs less than the competition's aluminum-steel hybrid bodies and without sacrificing the strength and durability. We have the weight tickets to prove it!

What's more is the HC-8x can give you the performance that is typically only available in a class 6 truck. This monster 8,000 lb lift capability with a 30′ boom on a class 5 truck is only available from Auto Crane with the HC-8x crane.
The competition can copy the word "advantage" but there is only one body with the true Titan Advantage.
---
9′ and 11′ Service and Mechanic Bodies for Class 4 and 5 Trucks
Compatible with the HC-8x, HC-8 and smaller model cranes
Features / Benefits
Heavy-duty performance and extended service life:
Patented one-piece 10 gauge (3.6mm) side-pack design for rugged, off-road use minimizes weld seams for less cracking and rust
12 gauge (2.8mm) tread plate on tops and cargo area for added durability
Integral crane box transfers load directly to outriggers reducing stress on the chassis — reinforced up to 52,000 ft lb (7.19 t-m) off the back and 43,000 ft-lb (5.95 t-m) on the sides (HC-8x and smaller model cranes)
Internal stainless steel hinges reduce potential corrosion points
Double-paneled Galvanneal doors for added strength
Gas door struts reduce wear-and-tear
Rounded door corners throughout reduce effect of load on stress points
Flush door panels with bulb seal gasket and functional full-length drip rail for dryer compartments
Fully undercoated for rust prevention
---
Safety and security built in:
Fully stable throughout lifting radius of the crane for maximized crane capacity
Large, flush-mounted, angled, stop-tail-turn lights for better visibility
Four or six heavy-duty tie downs for payload security
Three-point latching system provides secure door closures
Fender flares add protection to the body at the wheel well
Rounded door corners throughout reduce effect of load on stress points
Best-in-class Two-Year Limited Warranty
---
Productivity enhanced:
Unobstructed crane compartment maximizes usable cargo space
Double-paneled, slam-able tailgate for one hand ease-of-use
Complete shelf package to optimize storage needs
---
Chassis Requirements:
Class 4 or 5 (11,200 GVWR; 5080 GVM)
34″ (864 mm) frame rail width
Dual rear wheels — 93.75″ (2.38 m) overall width
14,500 lb (6,577 kg) chassis required for cranes in excess of 25,000 ft-lb (3.46 tM)
Truck stability will govern the actual approved working loads that will apply at different points of rotation
Actual chassis requirements should be determined by adding weight of body, crane, accessories, and anticipated cargo
Note: It is the responsibility of the crane installer to comply with OSHA Truck Crane stability requirements as specified by 29 CFR Part 1910.180 (c) (1)
---
Options:
Integrated wheel chock holders
Manual or hydraulic outriggers
12″ (305 mm) heavy-duty bumper
20″ (508 mm) workbench storage bumper
Receiver hitch
Rope and dome lights for compartments
Flood lights
Crane boom support
Individual drawer units
Drop-well for front compartment
Slide-out tool tray
Adjustable shelving
Lockable sliding tops
Master locking system
Grab handles
Oxy/acetylene bottle holder
---
Substructure:
Interlocking channel frame reduces weight while increasing rigidity